Cases
Safety upgrade for PB Leiner's fine powder drum dryer
Case
Klant:
PB Leiner
Dienst:
Retrofit
Sector:
Food & Drinks / Medical sector
Cases
Safety upgrade for PB Leiner's fine powder drum dryer
Case
Client:
PB Leiner
Service:
Retrofit
Sector:
Food & Drinks / Medical sector
Veilige upgrade voor fijnpoeder-droogwalsen van PB Leiner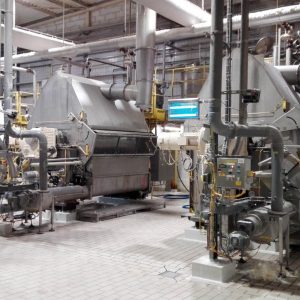 Challenge
The drum dryer from PB Leiner processes high-value, liquid gelatine into an ultra-fine powder that is used in food, medical and other sectors. At the end of the drying process, special knives cut the hardened gelatine. The tiny flakes drop into a tray that is moved with a screw.
This machine is almost 30 years old but still delivers outstanding service. However, according to a safety report by Pilz, it did not comply with the latest safety standards. IMA commissioned Pilz, its preferred partner, to do a retrofit to make the machine's maintenance safe and easy.
Solution
The knives that cut the hardened gelatine into flakes are an important part of the drum dryer. They have to be adjusted, maintained or replaced frequently. The rolls also need to be more easily accessible when they have to be replaced.
To do this both efficiently and safely, IMA created fencing for the front that can be clicked off after a safety procedure. This means that the knives and rolls are accessible without having to remove the whole screen.
At the back of the machine, IMA fitted a secure tilting window that can be opened to take test samples with the lowest possible risk: the screw is disabled when the window is opened, but the drum keeps on turning.
The retrofit was implemented in complete accordance with the food sector standards. The construction was built in such a way that water can always flow away, for example from the sliding gates. Some hygienic materials such as stainless steel and food-safe plastic were used. The plastic is always blue because food vision systems recognise this colour.
The drum side is fully protected with two sliding gates that together form a mesh wall. As extra protection there is a locked access door that only allows access once the operator has stopped the drum from moving. If necessary, the whole fencing can be removed after the appropriate procedure is carried out.
Added value
You can put machines in a cage for safety purposes, but then they are no longer accessible. Our solution with removable fencing and controlled access with a safety procedure, is the perfect compromise. A valuable, decades-old machine now complies with current safety standards, without compromising on efficiency.
Vragen over machinebouw?
Aarzel niet ons te contacteren!
Céline helpt u graag verder!
T 050 38 56 66
E sales@ima-nv.be
Stel je vraag
Questions About machine building?
Don't hesitate to contact us!