Cases
Robot cell for high-precision sealing of Land Rover battery boxes
Case
Klant:
POLYTEC GROUP
Dienst:
Automation
Sector:
Automotive
Cases
Robot cell for high-precision sealing of Land Rover battery boxes
Case
Client:
POLYTEC GROUP
Service:
Automation
Sector:
Automotive
Robotcel voor ultraprecieze dichting van accubox Land Rover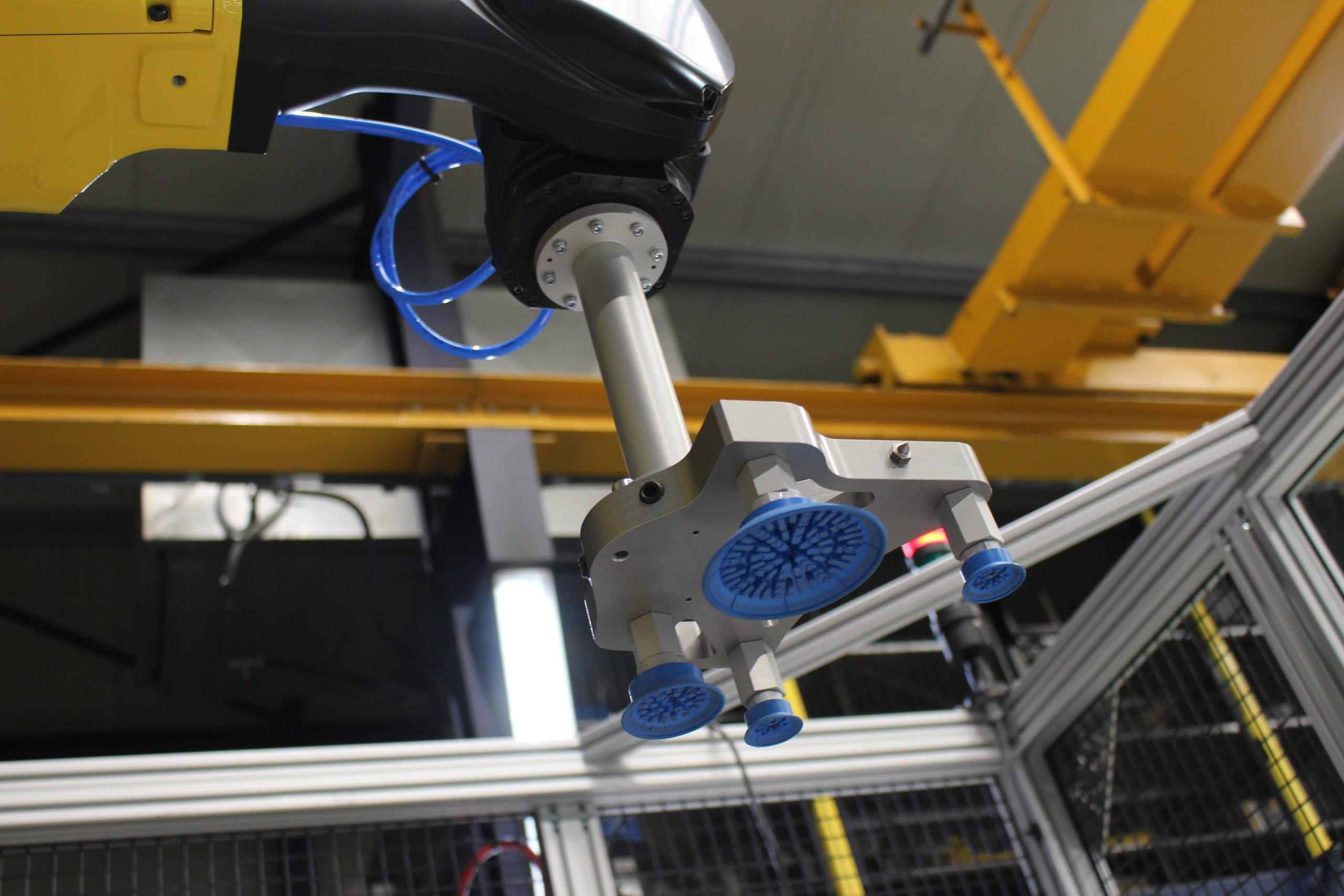 Stap 1: opmeten
Stap 2: plasmabehandeling
Stap 2: plasmabehandeling
Stap 3: seal aanbrengen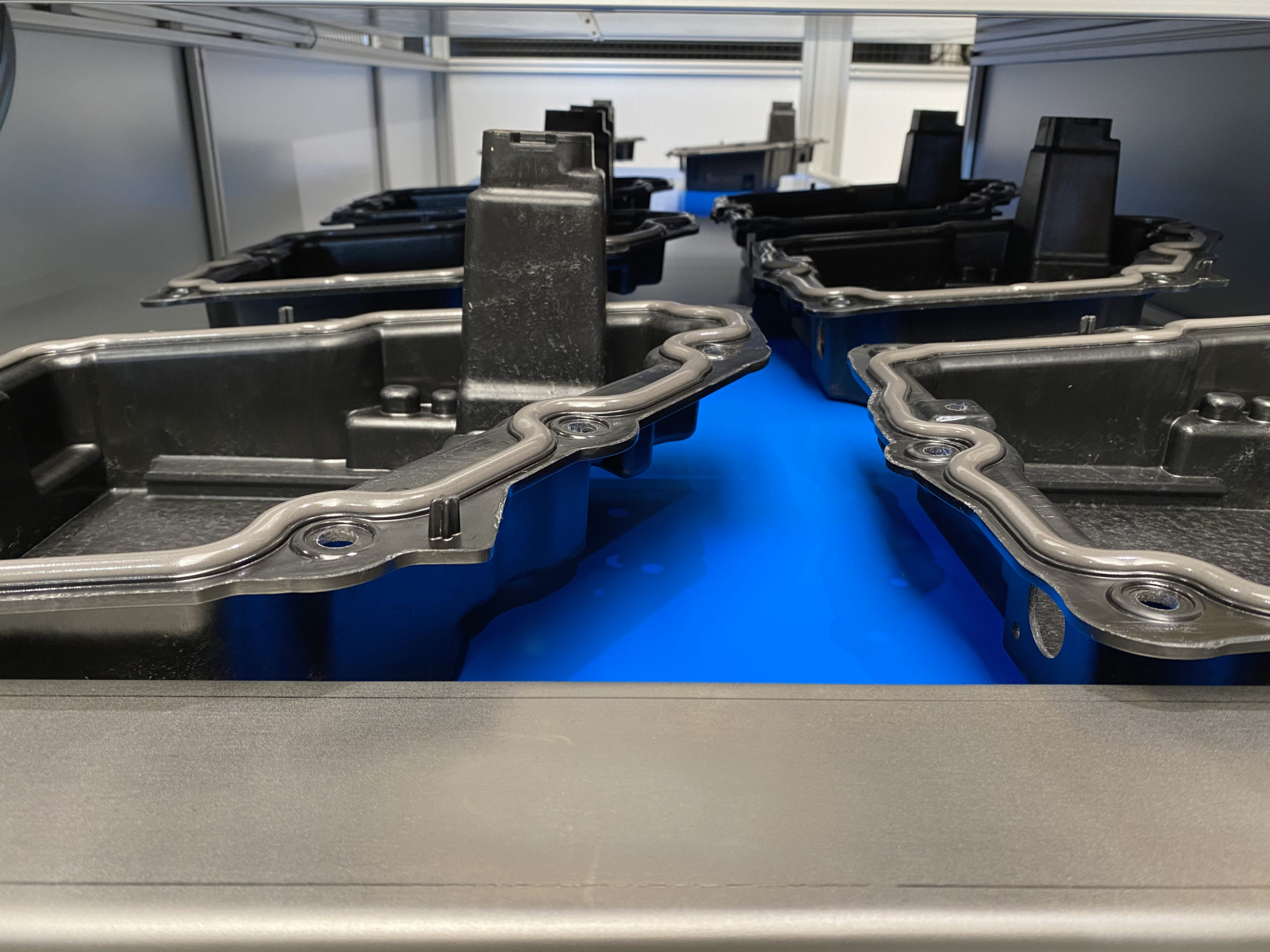 Stap 5: uitharden
Kwaliteitsgarantie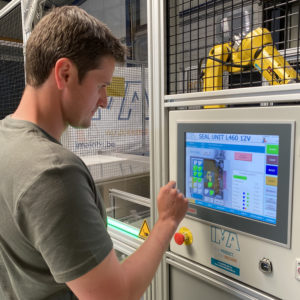 Challenge
We received a request to produce seals for the plastic battery boxes of Land Rovers. However, as these boxes are made of glass fibre-reinforced polypropylene, they are not dimensionally stable enough for this process. This makes fitting the seals precisely and evenly extremely challenging. To ensure that the seals can always be fitted in the right place, we carefully measure each item before going through the various steps.
Solution
IMA developed a robot cell to automate the whole process. The operator inserts one or two items in a slide, which the robot picks up one by one. In this case, we used a Fanuc robot.
It goes through the following steps:
Step 1: Measuring
Because the variation between the parts is greater than the process requires, we use a 3D camera to take precise measurements. Each item is labelled. Their respective dimensions appear on the display and are stored in a database. The robot will then make corrections based on the measured values – a technical wonder!
Step 2: Plasma Treatment
This pre-treatment step improves the adhesion of the seal.
Step 3: Fitting the seals
To achieve a perfect seal, we apply a 1K PU that forms a foam with nitrogen. Obtaining the correct ratio between the two components can be quite a challenge. This is because we have to consider various process parameters, such as pressure, flow rate, time, and temperature. 
Step 4: Drying
For faster and smoother drying results, the seal is sprayed with distilled water.
Step 5: Hardening
The item is then placed on an automatic output conveyor, where it will harden for twelve cycles before returning to the operator.
Quality Guarantee
To ensure that we do not deliver any "faulty" items, we have a rejection scenario. This may be the case, for example, if the camera detects that the tolerated dimensions have been exceeded or when there is a problem with the sealing module's process parameters. When this happens, the robot will place the item in the removal position so that the operator can safely remove it from the robot cell.
William Engelen – Roosendaal Plant – Manufacturing Engineer:
"We frequently encounter complex assembly processes with their own specific challenges. IMA then uses our specialist product knowledge to design and build the right machine for the job. The machines IMA builds for us are extremely well-engineered, mechanically robust, and very smart in terms of control technology. Open communication and constructive consultations are characteristic of the projects. As IMA is a company that has very high standards, I never need to worry about the end results."
Added value
Tracing complex 3D contours can only be done with the precision of the robot and camera. This is how we are able to create a uniform sealing thickness everywhere, which is crucial to sealing the battery box and impossible to achieve manually.
Vragen over machinebouw?
Aarzel niet ons te contacteren!
Céline helpt u graag verder!
T 050 38 56 66
E sales@ima-nv.be
Stel je vraag
Questions About machine building?
Don't hesitate to contact us!